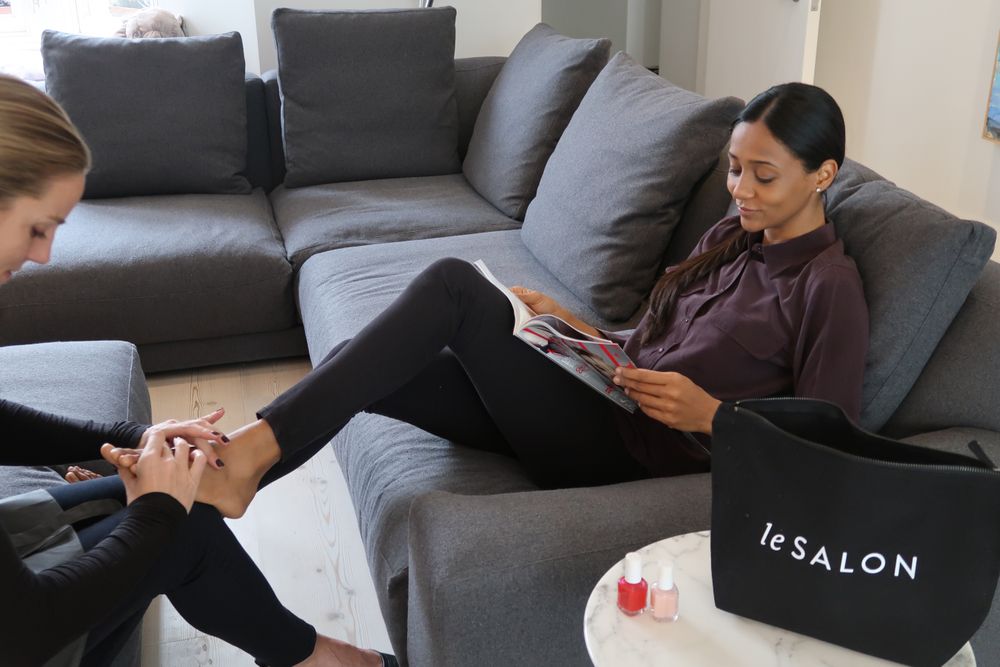 CND Shellac Pedicure
£45 - Approx. 60 minutes. This treatment includes filing, shaping, foot file, foot exfoliation and polish.
LeSalon is accepting bookings on and after the 25th July 2020. Enter your postcode to pre-book now.
If you're looking for the perfect treatment, then look no further - our CND Shellac pedicure is the perfect choice. The polish lasts for up to two weeks and the finish is beautiful. Covering all the essentials of foot care, from nails to cuticles, your feet will be looking fresh and fabulous.
WHAT'S INCLUDED
Soaking your feet in a pedicure bowl

Trimming nails to your desired length

Filing nails for a smooth finish

Shaping nails into your desired shape (square, round, almond, etc.)

Buffing the nails

Treatment of the cuticles - clipping and oiling

Exfoliation of your feet with a foot scrub and foot file

Your nails will then be painted using CND shellac polishes only (base coat, colour and top polish)
We offer the highest quality at-home treatments.
WHAT WE NEED FROM YOU
A chair - make sure you're all ready to be manicured

Some hot water for the pedicure bowl - this can be taken from the kitchen/bathroom sink.

A power socket so that our Salonette can plug in the UV lamp needed for this treatment.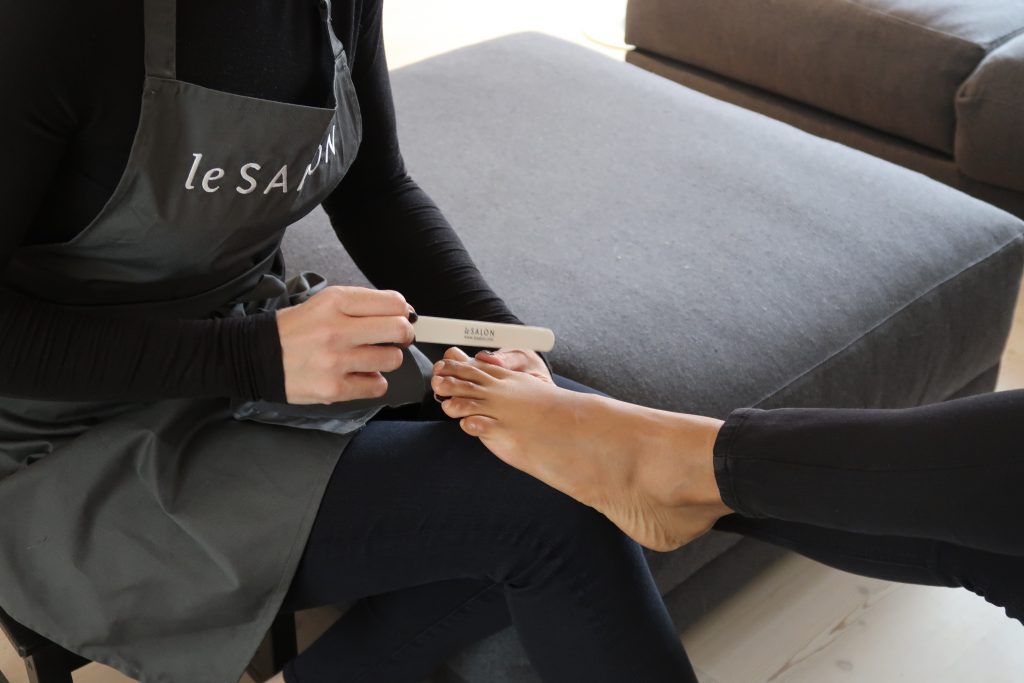 WHAT TO EXPECT IN MORE DETAIL
You'll recognise our Salonettes when they arrive at your house as they will be wearing all black and carrying their kit. Invite them in and, once you meet each other, the therapist will ask to use some hot water to fill the pedicure bowl with. If this is all good, then the pedicure process can begin. Once set up, these are the following steps included in the Shellac manicure procedure:
STERILISING
You Salonette will begin by sterilising your feet as well as their hands: hygiene is just as important to us at LeSalon. This will be done with a quick spritz of sterilising spray. You don't need to worry about any mess being made as our Salonettes are well trained and have punnets and towels to keep their kit together. Once your feet are sterilised, they will be placed into the pedicure bowl to soak.
CUTTING AND SHAPING
This part of the process is where the real transformation happens. Your therapist will start by cutting the nails to a desired length. Following this, they will ask you what type of shaped nails you would like - this can be anything! From square, rounded, almond-shaped etc. - whatever you want. To make sure it's exactly what you want, your therapist will do this on one nail and ask you if you're happy with it.
CUTICLE TREATMENT
Cuticles are prone to infection and can be sensitive so cuticle care is extremely important. A removing solution will be put on each toe around the cuticle, which the therapist will then thoroughly remove. The solution softens and cleans the cuticles; the therapist will then proceed to push back the cuticles gently. Do not hesitate to say if the pressure is too much/little, our Salonettes are trained to go at whichever pace you prefer. Once the dead cuticles appear, these will be neatly clipped away.
FOOT FILE, EXFOLIATION AND application of lotion
To make your feet incredibly soft, the therapist will be equipped with a disposable foot file and foot scrub. The heel and ball of the foot will be filed to remove rough skin. With this completed, your feet will then be exfoliated with some foot scrub whilst being massaged. Again, just direct the Salonette if the pressure of the massage is/isn't fine. A bit of lotion will be applied, and then the therapist will proceed with the full foot massage.
PAINTING THE NAILS
If everything looks good - shape of nails and the cuticles - then you're about to make your biggest decision: picking the CND Shellac colour you want! FYI - if you're looking for a specific colour, you can always mention that to us in the comments box when you book, and we will do our best to accommodate that. The nail technician will then scrub the nail plate clean using acetone or alcohol; this is done so that the gel can be applied properly, and excess oil and cream are removed. Using only CND Shellac polishes, a base coat will then be applied to protect the nail, and this will be cured under the UV lamp. Once this is done, two coats of your chosen colour will be applied which will be cured each time. Following this, the all-important top coat is applied and is cured one last time. Having completed the curing, acetone will be used over each nail to remove the sticky layer that is created from the pedicure.
FINISHING TOUCHES
Once everything is dried, the cuticle oil is added and rubbed in. This nourishes and hydrates your nails. And voila - the classic pedicure is complete!
FUTURE BOOKINGS
Before the therapist leaves, she will ask you if you would like to book another treatment again. It takes no more than 20 seconds, just confirm the date that you would like to book in and leave the rest to us.
FAQS
What is CND shellac and how long does it last for? CND Shellac is a new nail polish brand which is non-damaging and long-lasting. The polish should last up to 14 days.
Will the Salonette bring her own pedicure bowl? Your Salonette will bring a pedicure bowl along with her kit. You will not have to provide any manicure/pedicure tools at all.
Do I need to supply any towels? Your Salonette will bring towels with her, you don't need to provide that.
Recommended Add-ons
Callus peel from £15 - get rid of hard, rough skin on the feet for baby bottom smooth feel!
Extra foot massage - a relaxing treatment if you just feel that you need to pamper yourself a bit more!