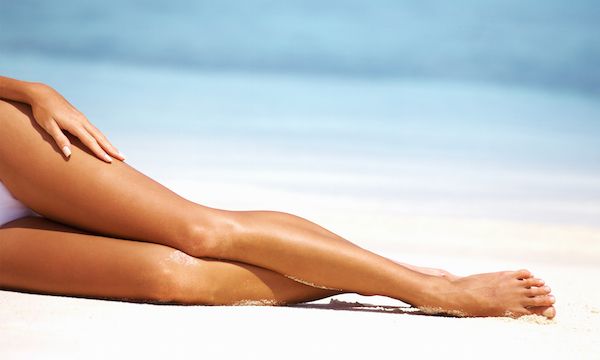 At-Home Spray Tan
Get that summer glow with a LeSalon spray tan. The best part is that it's all in the comfort of your own home. Try a spray tan at home today, you'll never go back to a salon again!
Spray Tan in the Comfort of Your Own Home
Dreaming of that post-holiday glow? We've got you. What if we told you that you could get bronzed, beach tan without having to go on holiday. Or, better yet, without having to leave your house! That's right. Not only can you get a natural tan in under 30 minutes, but you tell us where and when you want your spray tan and one of our Salonettes will bring the salon to you.
How does this work?
Your Salonette will set up their tanning equipment in your chosen space. They will then ask you to undress into what you want to wear during the tan - you can either opt for your own underwear (in which case we recommend wearing dark colours so the tan doesn't stain) or you can choose to wear a disposable thong which the Salonette will provide.
After the Salonette will provide you with plastic stickers to protect the soles of your feet and they will apply some cream to areas which are known to tan unevenly. You will then be asked to enter the tent where they will work through each body part to get the most even tan. After they have finished, they will give you some drying time before putting your clothes back on - we do recommend wearing dark, loose clothing to avoid rubbing the tan off.
On the day:
You'll recognise when your Salonette has arrived as they will be wearing all black and carrying their kit. You don't need to provide anything yourself - your Salonette will have all the product needed. All you need to do is find a spot in your home where they will be able to set up the tanning tent.
Our classic spray tan, using non-toxic ingredients, which will reveal a flawless, even tan. Approximately 30 minutes.
Opt for Vita Liberata's vegan-friendly tan with anti-ageing ingredients to get that post-holiday glow. Approximately 30 minutes.
How do you book an at-home Spray Tan?
Like our other services (we also do waxing, nails, lashes), our at-home treatments are all about making you feel comfortable while delivering a 5-star experience. The booking process couldn't be easier - all you have to do is book via our website or download our app, choose your preferred treatment and tell us when and where you need us. You can even select your preferred therapist. Once everything has been confirmed, we will take your payment direct.
Remember, we want to cater to your needs - if you want a quiet session, let us know by opting "quiet mode' at check-out. If by the end of your treatment, you're feeling and looking good, then it's a mission accomplished for us.