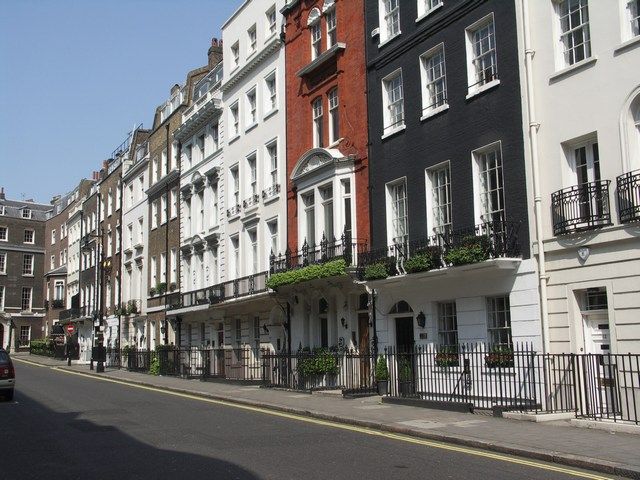 Manicures and Pedicures in London Mayfair
Whether you live or work in Mayfair, we've got you covered - from Berkeley Square, to Bond Street, to Green Park.
At LeSalon we believe it's important to spoil yourself. Whatever difficulties may come your way, taking a bit of time to yourself means you'll be ready to beat them. It's those small luxuries that ensure you don't just feel you look your best - you feel you're at your best. Finding spare time in your day can be difficult; that's why we offer a personalised, home visit service that's designed to fit into your schedule seamlessly.
Services We Offer in Mayfair
Our philosophy is simple: a competitively priced, flawless and luxurious salon experience should be available to everyone. Often the delight of a perfect mani-pedi is confined within the walls of the salon; our solution is to bring that same perfect and personal service right to your door, at a time of your choosing. A complete salon experience in Mayfair, without the salon.
Our manicure, pedicure, and complete mani-pedi services are chosen with that philosophy in mind: giving your hands and feet a lasting treat, leaving them refreshed and immaculate. It's important to take some time for the small things. These are the services we offer: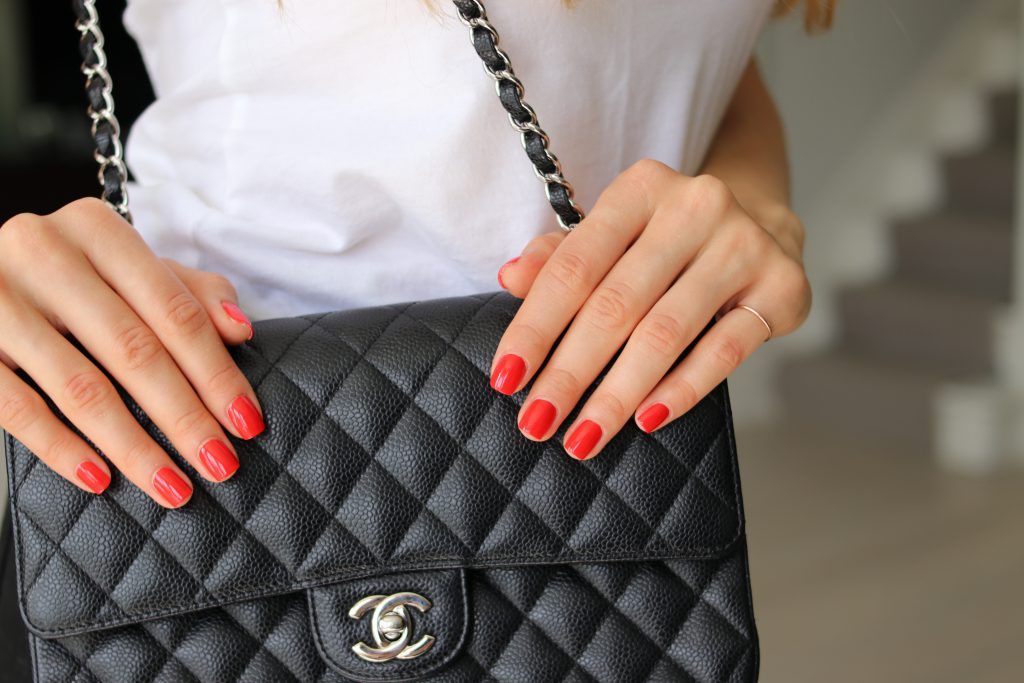 Manicures at home in Mayfair
Enjoy a manicure service in the comfort of your own home with LeSalon. Whether you live or work in Mayfair, we've got you covered - from Berkeley Square, to Bond Street, to Green Park. There's something special about at-home manicures. You don't have to worry about getting to the salon on time, making for a much more relaxing treatment. Getting your nails done at home can be perfect for some "me time', or, alternatively, it's a perfect party idea because we all know how hard it is to book a group in a salon for the same time!
Our manicure service gives careful and attentive treatment to your hands and nails to restore them to their best. Your nails will be shaped, your cuticles treated and tidied with nourishing oils, before hydrating and massaging your hands to guarantee they remain relaxed and refreshed. Finally, we complete your nails with a polished finish, cherry-picked from the best ESSIE, Nailberry and CND Shellac products, leaving a perfect manicure with lasting flawlessness. Our men's manicures include all of those steps except the polish. If you're in a rush but still want a touch of luxury in your day, go for our express manicure.
At-home Pedicures around Mayfair
Whether you spend Saturdays shopping on New Bond Street or mornings jogging around Hyde Park, everyone could use a little foot care. It can be difficult to put the time aside to treat your feet; that's why we deliver our personalised pedicure service directly to your door.
Your nails will be trimmed and shaped before finishing your cuticles with nourishing oils, leaving them vibrant and healthy. Once your nails have been perfected, it's time for a deep exfoliation scrub; your feet will be rid of any excess skin leaving them fresh and soft - all before a decadent hydration bath and massage.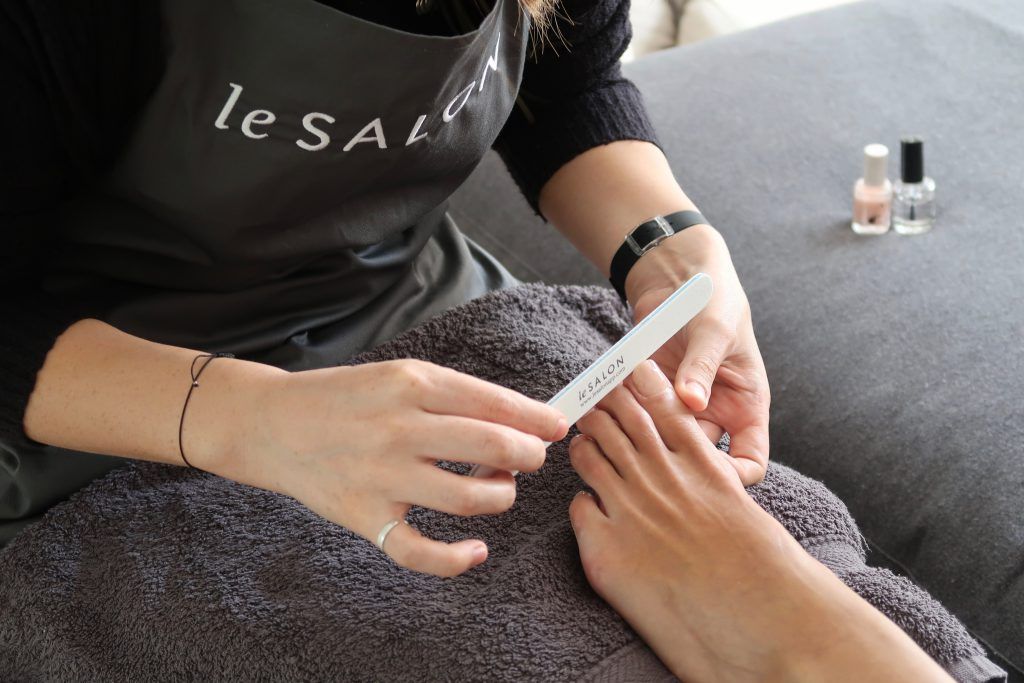 We'll finish with your choice of polish, from the finest range of Nailberry, ESSIE, and CND Shellac products, to leave your feet feeling - and looking - utterly spoilt.
On-demand nails in Westminster Borough
We're officially in the age of on-demand service - Uber, Deliveroo, and now LeSalon! Most of us have busy schedules and little spare time for pampering. It's those few sacred moments at home in the evening after work or when the kids are at school when we have a chance to unwind. It's the perfect opportunity to have us visit for a nail treatment. Our services are available from 7:00am and our last appointment time is 10:00pm - and that's every day of the year.
Mayfair London Mani-pedis: How It Works
Booking a mani-pedi at home near Mayfair couldn't be easier with us:
Book through either our desktop website or mobile app. Our online booking process seamlessly allows you to select your treatment, date and time, address, and even nail technician in under three minutes.
If you have any questions along the way, LeSalon HQ is always here to help, just give us a call or live chat box on the website.
Once your booking is confirmed, you're all set. One of our fully vetted and certified nail technicians will make their way to your house for your appointment.
You don't need to provide any nail products or tools as the Therapists are kitted out with our expertly curated nail kit. Simply choose a place where you and our professional can sit comfortably with access to running water. For manicures, sitting at a table is more comfortable and convenient. For Shellac treatments, you'll need to sit somewhere near to an electrical socket to plug in our LED lamp.
Finally, sit back and enjoy your treatment - you deserve it!
Bond Street: Just one of the areas we cover
Living near Bond Street, we know you have a quality selection of nail salons nearby, but nothing truly compares to the comfort, convenience and luxurious feeling of having your nails done right at home. When it comes to location in London, nobody gets left behind! Our radius covers every far-reaching corner of Mayfair, from Grosvenor Square to Green Park, along eastern Hyde Park and up to Marble Arch. Some of our most popular Mayfair areas are: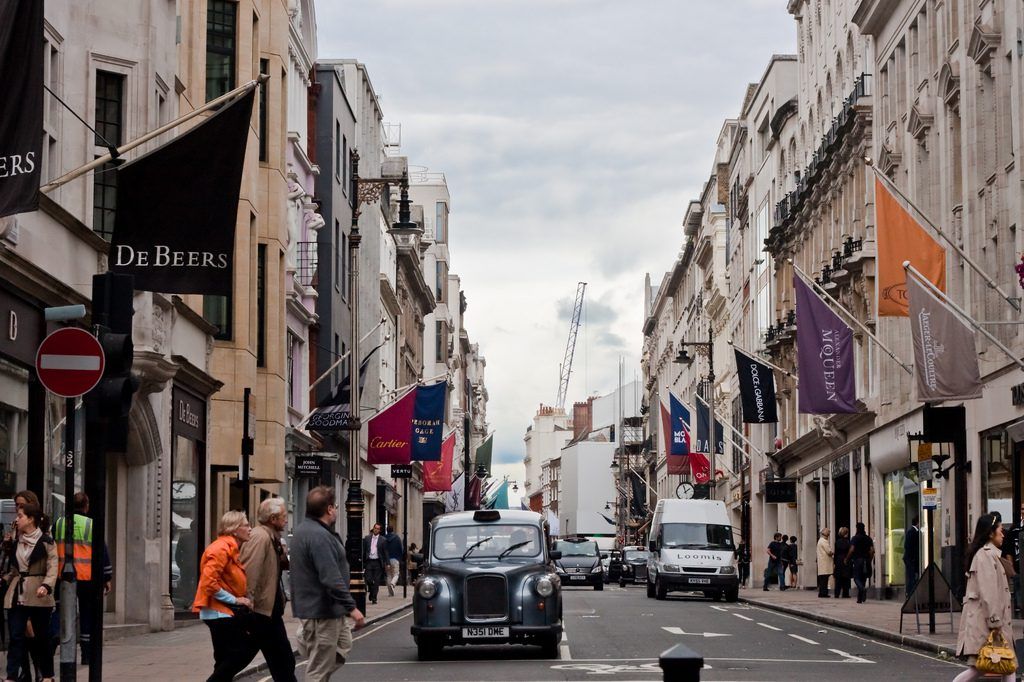 Piccadilly
Looking for a high-quality manicure near Piccadilly? You're in luck - we service every nook and cranny of Piccadilly and all the way up Regent's Street. We know living or working in this busy Central London area can feel chaotic. We think an at-home mani-pedi will solve all of your problems. After your treatment, you'll be feeling and looking your absolute best - we promise!
Green Park
If you live or work in the vicinity of Green Park, we'll also be able to look after you. If you need a nail tidy up before a big interview or a glossy Shellac manicure for a special occasion, you can count on us.