Speaking with the Salonettes: Our Working Mums!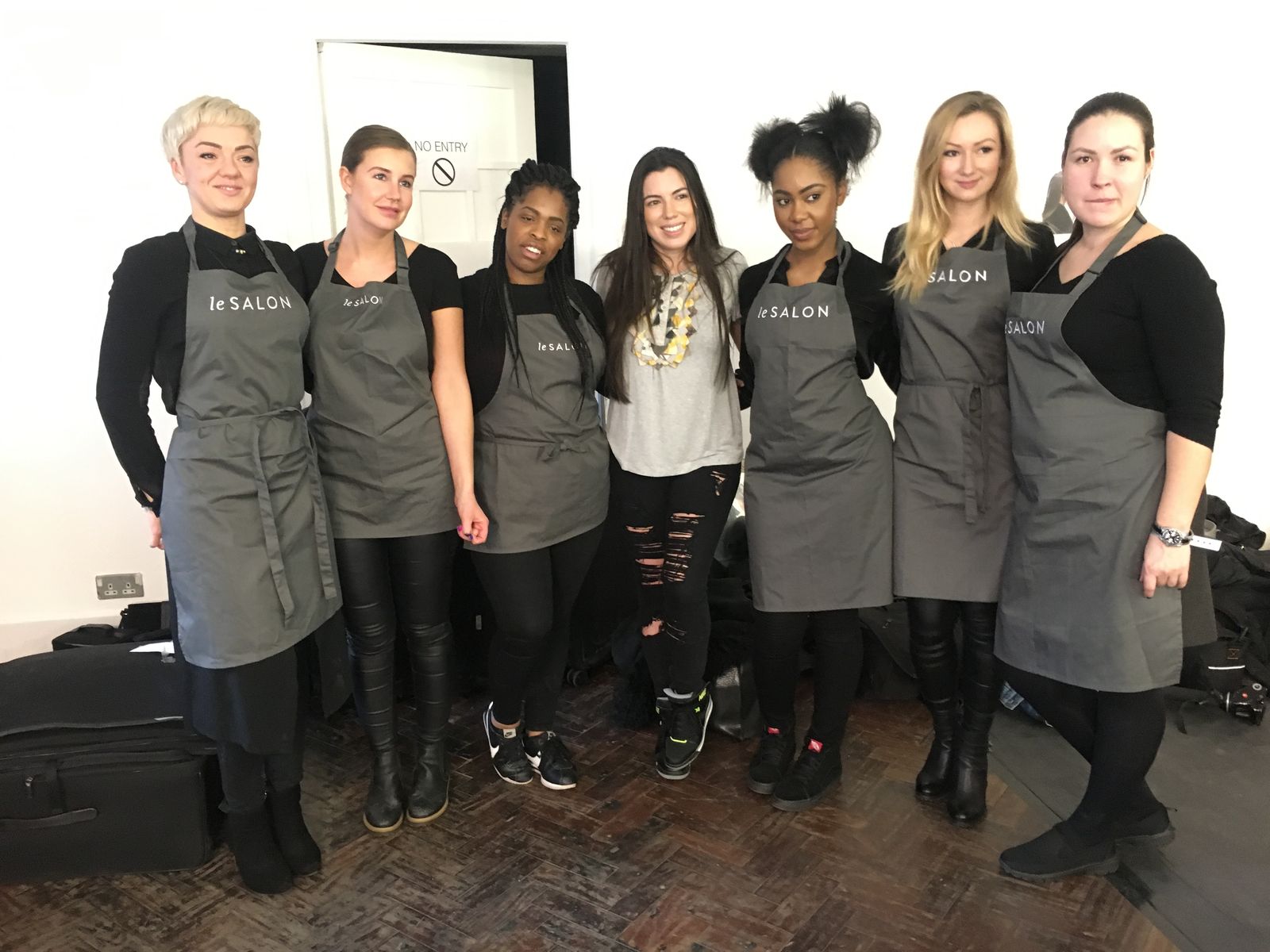 If you were asked to list off some of the toughest jobs out there, maybe something along the lines of a neurosurgeon or the like might come to mind. And while these jobs are tough, many people look over another job that really takes a lot of strength and mental willpower… being a mum. While it is a tough job, it is also one of the most rewarding! Now add to the mix a second career and you really have to wonder – how do they do it all? And by 'they', we mean the strong and hard-working Salonettes at LeSalon who are also raising children.
Lesalon's mission from the beginning has always revolved around female empowerment. A constant strive to create a platform and community that allows women to return to the workforce after having children. We want to help keep women in control of their finances. This means that they choose to earn when/what they want, choose treatments, decide when and where they are working,  etc. LeSalon wants to give women the added ability of balancing work and raising children as easily as possible, compared to working in salons with strict full time contracts and little flexibility.
We thought it was time to shed light on some of these wonderful Salonettes managing to make that work. It makes us ecstatic to see our mission being fulfilled. We'd like to thank them and give them the recognition they deserve.
It wasn't hard to find a few women to interview, as over half of our Salonettes are in fact mothers.
This week, we spoke to Christine, Cinthia, and Khristine about their careers in the beauty industry, how LeSalon has helped them balance motherhood and work, and more.
Working Mums: The Insight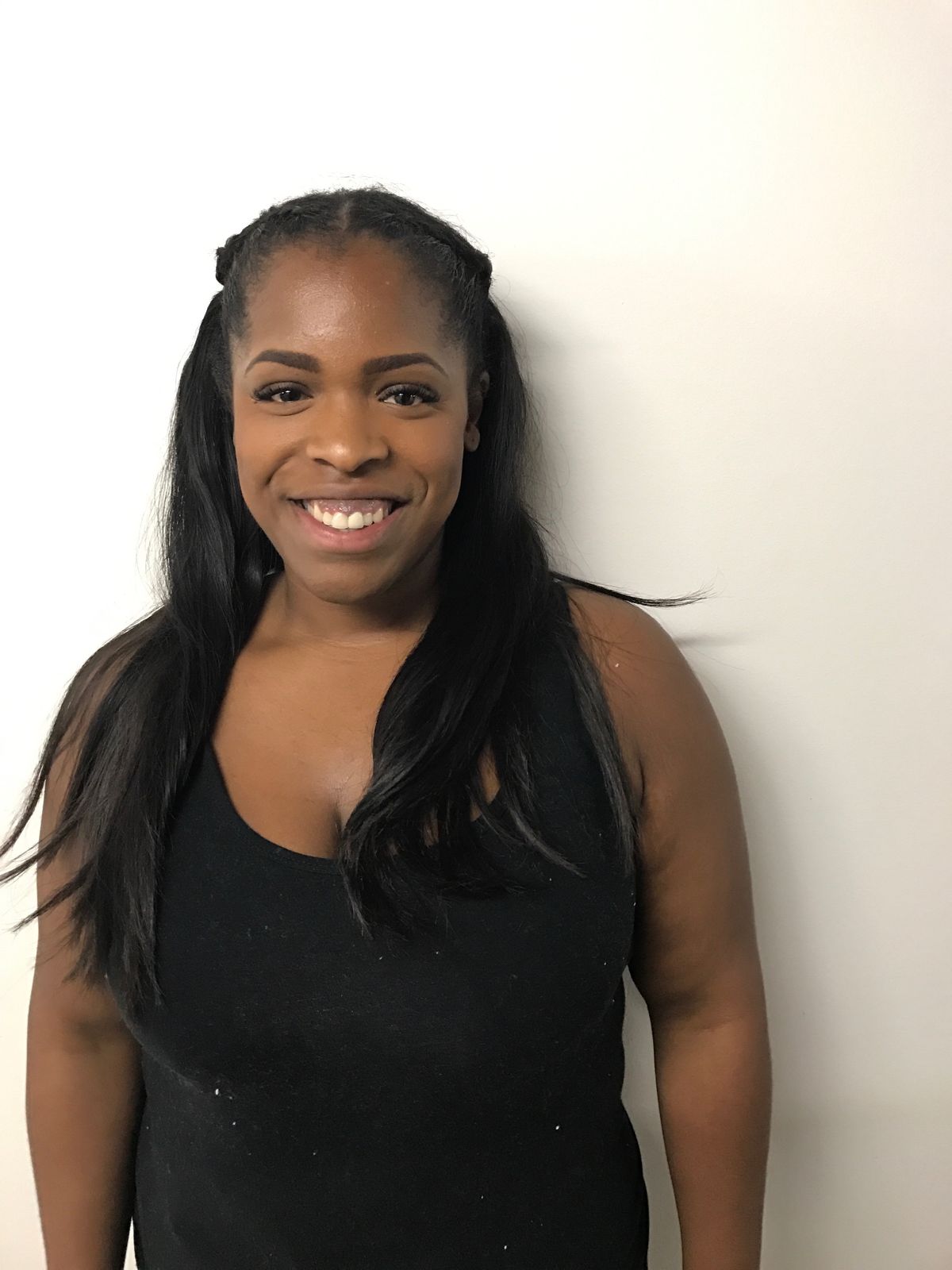 Christine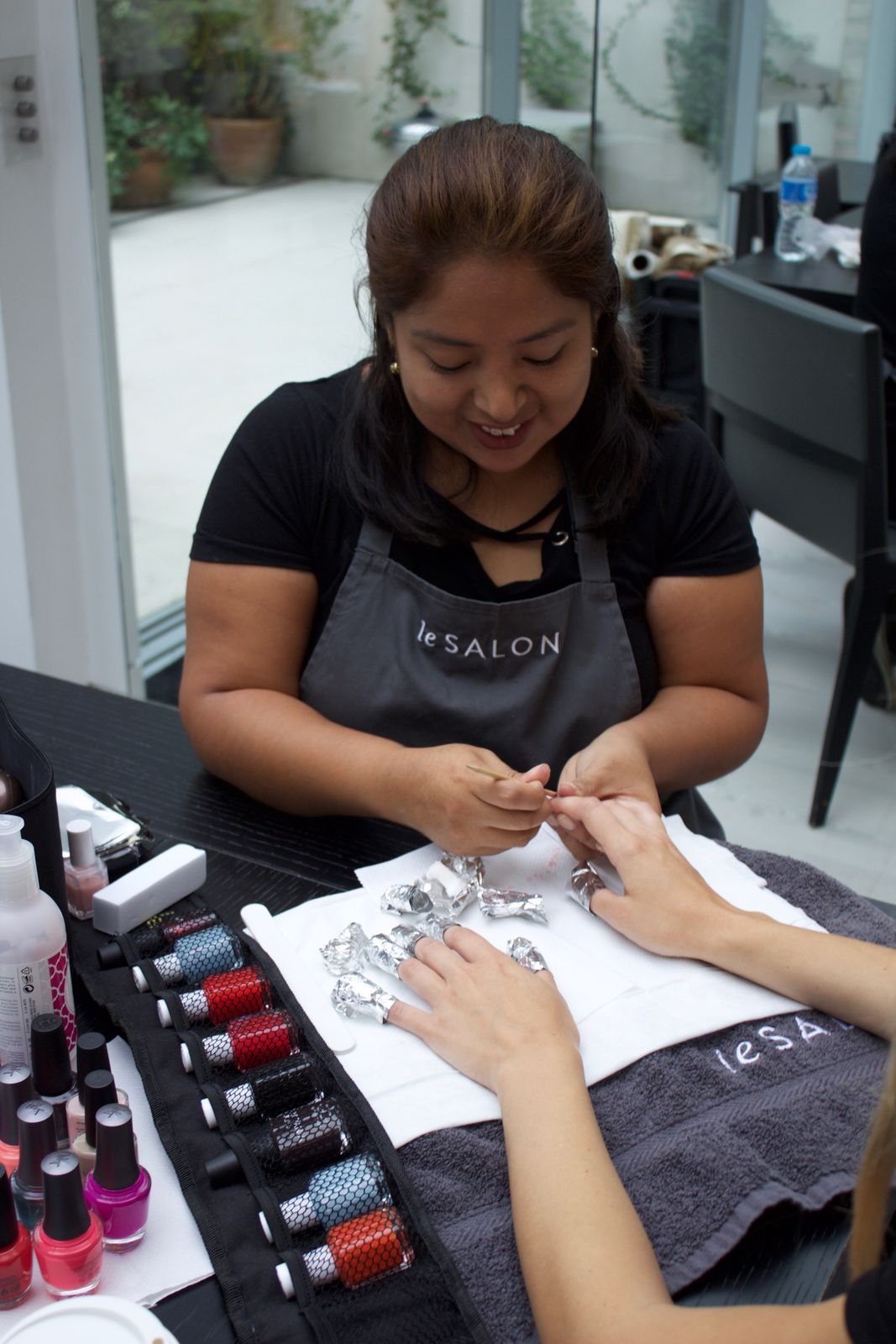 Cinthia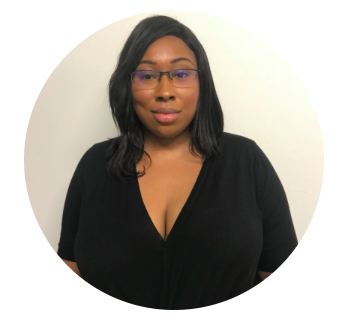 Khristine
What is your name and how long have you been working at LeSalon?
Christine: My name is Christine Thompson and I have been with LeSalon for about 3 years now!
Cinthia: My name is Cinthia Damian and I have been working with LeSalon for just over a year, started June 2017!
Khristine: I'm Khristine! I'm actually not sure how long I've been working with LeSalon, time has flown by! I would say since November 2017.
What is a typical day like for you at LeSalon?
Christine: Well, I'd have to say that my ideal day at LeSalon usually starts by spending some time with my son in the morning before dropping him off at nursery. Usually, by this time, all my clients would have already been pre-booked and in areas that are in close to where I live! I then drive to each client's house, and work my magic. It's actually something I love about my work – moving around London and being in multiple different environments everyday. Plus, meeting lots of different people can be really interesting!
Cinthia: I start my day by making sure I have all my equipment ready for the day, you know, checking route and delivering the best care for my clients. It may start by chatting like crazy with my client or just sitting quietly and getting on with the treatment.
Khristine: Best word to describe it: busy. I always start by planning my routes for all of the jobs at the start of the day. I usually do a mixture of corporate booking and home bookings. It's hectic but I love it!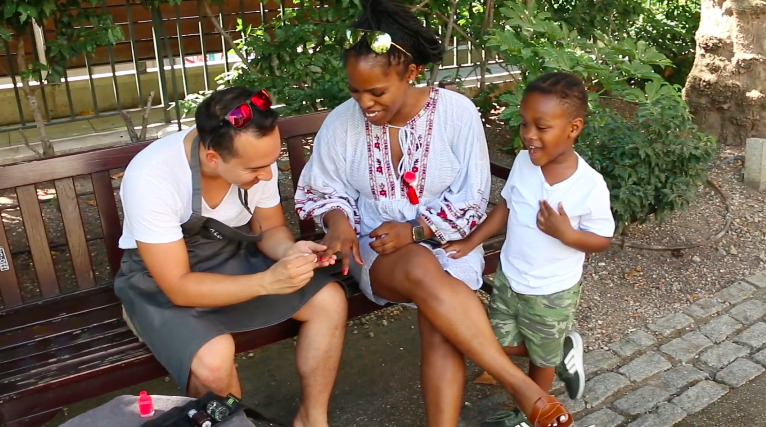 How did you find out about LeSalon and what appealed to you about the job?
Christine:  Hmmm. Well personally I found LeSalon on the Hair2Beauty website. At the time I was on maternity leave and coming up towards the end and I (really really!) didn't want to return to the salon I worked in. I had worked mobile before (by myself) while working a salon job. LeSalon ended up being perfect for me because I wanted to work solely mobile but didn't have the instant clients/money! LeSalon provided that for me but I also got to work independently. So best of both worlds in my opinion!
Cinthia: Honestly, I heard from an ex colleague! And it was the flexibility that appealed to me, being able to have control of the days and times you work really convinced me to join!
Khristine: I found LeSalon on a job listing on Indeed. I was really drawn to the flexibility I could have and even the variety of different environments to work in. I love getting to go around London! It's so different to salon work where you're often sitting in a room (with nail polish fumes building up all day!) and waiting for customers to walk in the door. It's a lot of waiting time. With LeSalon, I just go straight to where the work is.
How have you found working for LeSalon and balancing being a mum?
Christine: It really does have both its good and bad moments, but that's just balancing work/mum life in general isn't it? I really think it's great because you can pick and choose when you would like to work, but sometimes it does become difficult saying no to clients and working too much and too late, you know? I have to remember to keep an even balance as I can become a workaholic.
Cinthia: To be honest, it's been great. I'm able to work like I wanted but also spend time with my children. That's really important for me. I know lots of women who found it really difficult to get back into work after having children – it always seems like a trade up between work or children. And choosing your children often means becoming largely financially reliant or somewhat dependent on someone else. But LeSalon has changed that.
Khristine: It's been amazing working for LeSalon. For me, it's one of the best mobile companies around that I could find – and I've tried a whole bunch. I have the perfect work and life balance because I mainly do corporate bookings during the day while my children are at nursery.
What is your favourite part about being a mum?
Christine: It means everything to me watching my son grow and develop into an amazing individual. He has such an outgoing personality which is so different from mine, meaning everyday I am learning from him just as much as he is learning from me!
Cinthia: Seeing their accomplishments, they are mine too!
Khristine: I love all parts of motherhood but I especially love watching my children grow and evolve.
Why did you choose to get into beauty?
Christine: I won't lie, growing up I was the most anti-beauty person, I never wore makeup or did anything beauty related. My friends in school taught me all the tricks and now they learn from me! I honestly only started doing nails because I needed a part-time job while studying and the thought of working in Tesco/Retail made me want to cry, so I looked at alternative solutions. My first weekend job was in Nails Inc. at the age of 16.
Cinthia: I love beauty because I can make someone feel good about themselves, it's making a difference in their lives. That, in the end, is what I love doing.
Khristine: Similar to Cinthia, I've always had a passion for beauty, but I wanted to do a job which was flexible and worked around my children too.
Lastly, what is your favourite beauty treatment to receive?
Christine: Not that I get them done very often but I love a facial and a massage, as they are so relaxing. Which is quite funny as the thought of giving a client either one of those services would bore me to death!
Cinthia: I love facials, too! It's just the definition of relaxation, right? But I agree with Christine, it's not the most entertaining treatment to perform, though I have other beauty therapist friends who find it therapeutic to do.
Khristine: Hmmm, this is a hard one. I love facials but I also do love a good pedicure. I do so much travelling around London because of work, so a pedicure can work wonders on my feet. It's so satisfying seeing your feet go from all worn out to smooth and tidy.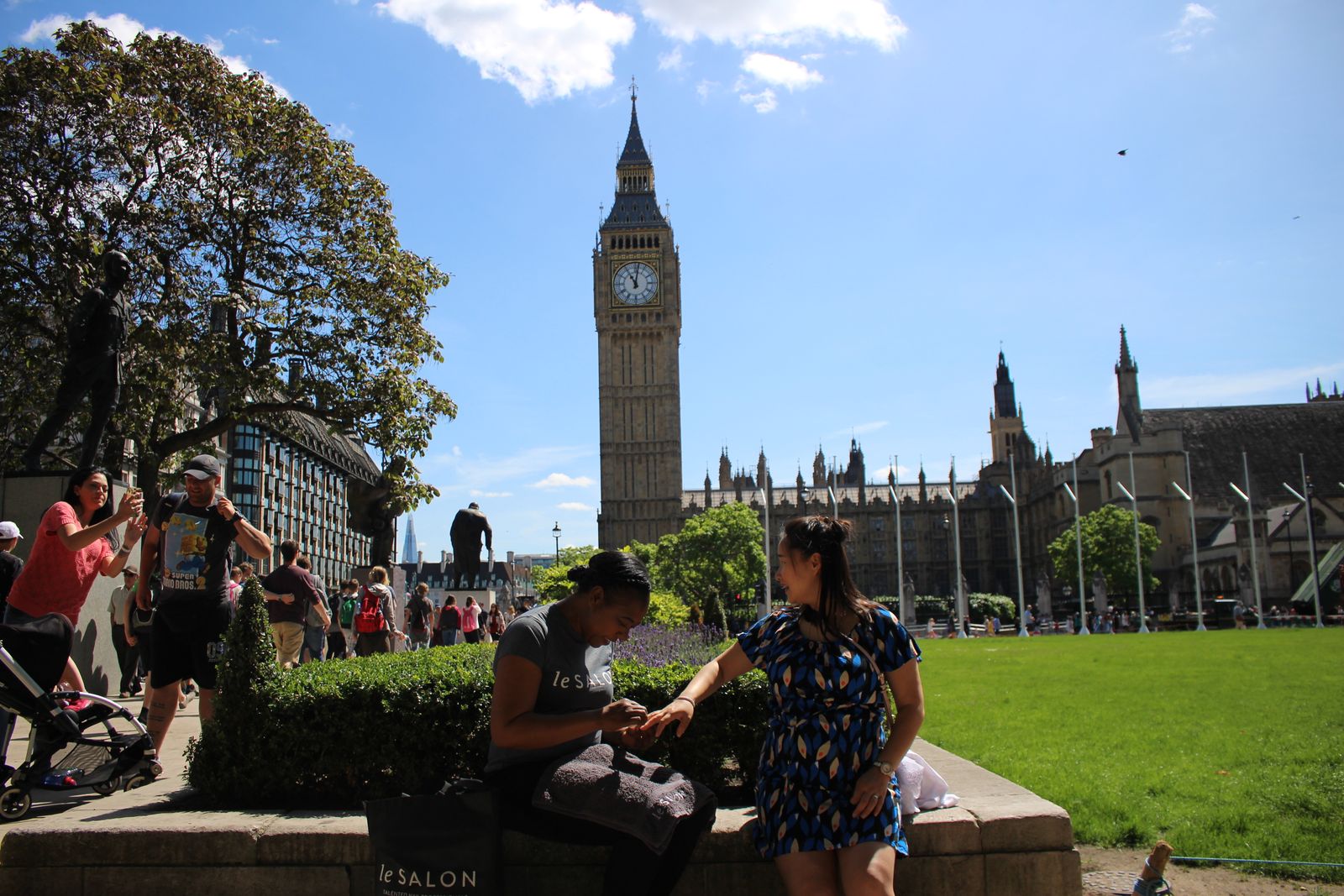 Why We Love Our Working Mums
Being a mum can present its challenges, and building a career can too! That's why LeSalon wants to put the spotlight on these strong and inspiring individuals who manage everyday to do both.
If you want to know more about starting a career with us, look us up on our website and find out all the benefits we provide to help you! Make sure to also take a look at our services!
LeSalon is at your service. Search for the best therapists in your area.