Blogger, Vlogger and Entrepreneur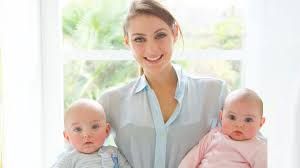 With 18month old twins, Ursula Brunetti knows first hand how demanding motherhood can be. Since pregnancy Ursula has been a busy blogger and vlogger with Channel Mum where she shares her tips and advice on how to manage the trials and jubilation of motherhood. This made her perfectly placed to launch MumDays, a premium gifting site dedicated to making mums feel special with quality me time.
1. As a successful blogger and mother of 18-month-old twins, you already had a lot on your plate – what led you to launch MumDays?
The twins were 6 months old when I had the idea for MumDays. I was craving a day off as it was so apparent that there are no breaks when it comes to motherhood, especially early motherhood. It's a very intense time. All I could think was 'everyday is a mumday'. I thought how what mums really covet is to feel appreciated for all they do. We're always on duty, and the gift market didn't seem to reflect just what an amazing and all-encompassing contribution mums provide. Mums are real life VIPS and deserve to be treated as such.
The services mums want all exist, but there was no one putting it into the packages that make it truly giftable for the mum market. All the mums I was meeting, no matter how old their children, all seemed to have the same complaint – that there wasn't enough time for them. I thought that there must be something to be done about it. At around the same time, I received a well-intentioned experience gift, a massage, but it was delivered in a very impersonal and corporate way and the spa fell well short of my expectations, let alone the massage itself. As time is so precious when you're a mum, there's no time to get things wrong. That's when I thought it would be a great business idea to offer experience gifts for mums that are mum approved, and which combine the practical with the pampering.
2. What has been the most challenging part of founding a start-up?
The amount of time and energy it takes to found a start-up is often talked about, but until you've done it you have no idea just how all-consuming it will be. It's been a real juggling act to get it to launch but I'm so proud to have created something that really does specialise in making mums feel like real life VIPS. I'm completely passionate about making mums feel appreciated and making mum gifting less scary for gifters, it really does drive me to keep going late at night.
3. What have been the biggest learnings so far for you?
I'd say that the biggest learning has been to be true to your vision and your plan for your business. It's so easy to get distracted with opportunities and alternatives which crop up along your journey. But having a clear idea of what you want your company to be, what you want to achieve and how you want to achieve it, means you can focus on making your dream a reality.
4. What would be your ultimate "Mum Day"?
It would definitely start with a lie in. Time to go the gym and a shopping trip, followed by a massage, mani, pedi and a catch up with my girlfriends over cocktails. That's not so much to ask, is it?
5. How did you decide who to partner with?
Choosing the right partners for MumDays was really important. When selling gift experiences you can't compromise on service or quality. Mums don't have time to have a bad experience, so making sure our partners were dedicated to delivering their expertise to the best of their ability was paramount. All our partners have been tried and tested by our Mum Knows Best team – a panel of expert and influential mums from vloggers and bloggers to stylists and more. They've given a huge tick next to each of our partners which helps make shopping for mum gifts that bit simpler. Everything is mum approved.
6. How do you manage your schedule and fitting everything in?
It's definitely crazy in terms of life balance when trying to set up a business and parent toddler twins. But it's an adventure too! To be honest, every day is a whirlwind to get through from toddler breakfast times to business meetings and beyond, but luckily I thrive on being busy!
7. What is your ultimate pick me up when you are tired?
A bubble bath with candles, Vogue and a glass of wine never fails to make me feel like a new woman.
8. What is your favourite nail colour?
For summer I love a pale baby pink, especially as a pedicure. For winter I love a warm mulled wine shade.
Check out MumDays here.
LeSalon is at your service. Search for the best therapists in your area.