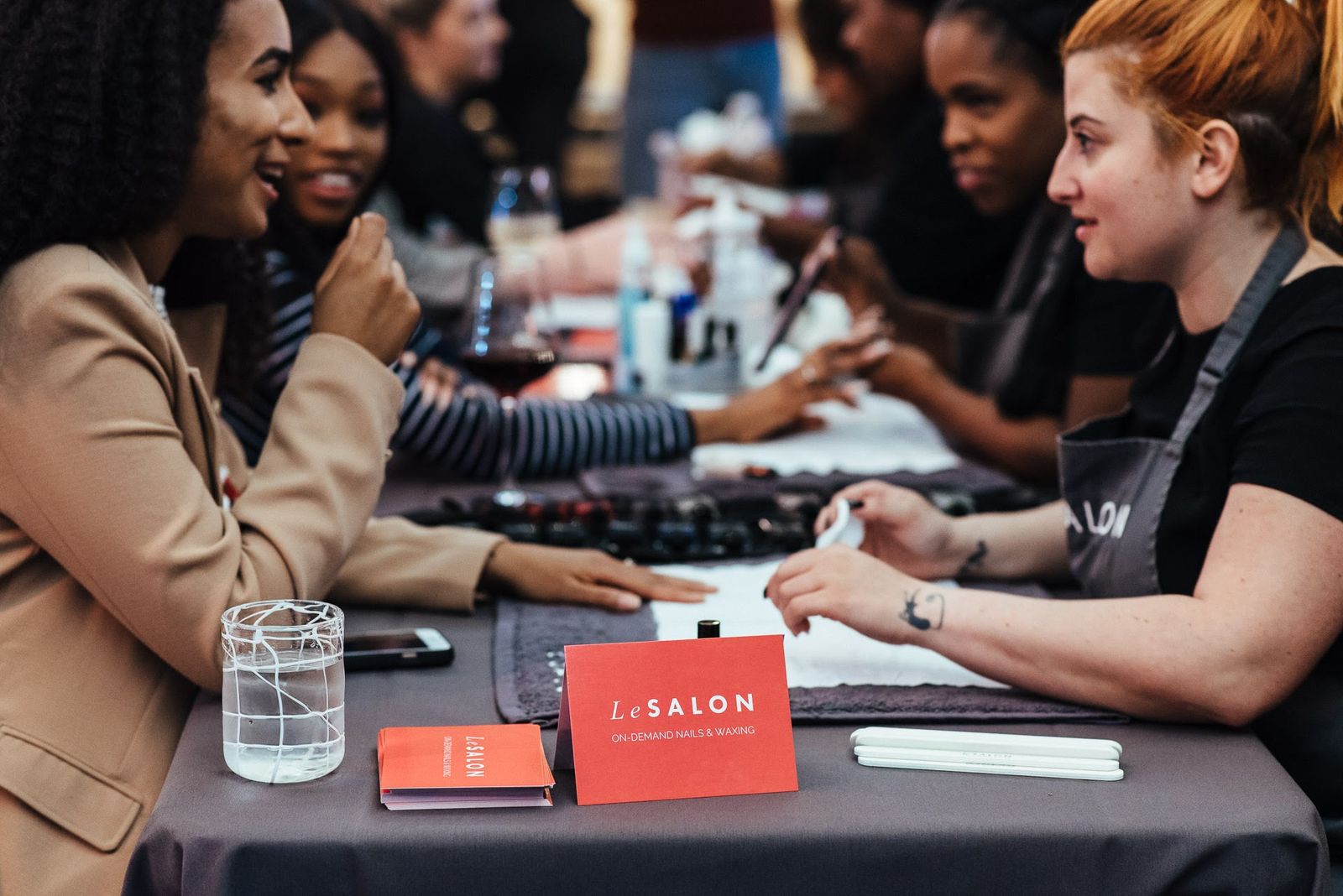 Bespoke Events
Create an unforgettable event by treating your guests to a LeSalon pamper - whether it's a mani table at a corporate event, or a lash lounge at a girls night, we will sort it out!
Design your perfect night with LeSalon. What's better than a relaxing pamper session with your friends, family or colleagues? Here at LeSalon, we offer a variety of bespoke events from hosting girl's night to in-office manicures.
Got an event in mind? Whether you're looking for nail treatments, eyelash extensions or waxing - we offer them all and it couldn't be easier to book. Simply enquire here, let us know what you have in mind and we will sort out the rest. Check below for our special rates and payment options to ensure it suits all your needs.
Types of Events
Party
Looking to make your party that extra bit more special? With LeSalon, you can pick and choose our variety of beauty services and treat all your guests. Whether you're hosting a baby shower, a going away party or just a general one with your friends, we will work flexibly around your needs.
In-office
Want to treat your staff? Show that you care by booking in-office manicures for all of your team. There's no bad time to get pampered. Make sure your staff feel valued and motivated by booking them some time to get pampered. Treat your team today with some of our beauty services. Of course, you don't have to choose manicures - whatever the treatment, we will be there.
Bridal Party
Bridal parties are stressful as it is without having to run off to the salon to get your nails done. With LeSalon, you and your bridal party can all get your nails, lashes, and waxing done without having to leave the house!
Girls Night
Fancy a night with the girls? There's nothing better than a night full of drinks, good music and beauty treatments with your group of besties. Get everyone together and pamper yourselves the right way!

Corporate events
Hosting a corporate event and looking to impress? We can set up a manicure or beauty booth to de-stress your guests and leave them looking in tip-top shape - they'll be thanking you over and over!
Kids Parties
Treat your little ones to mini makeovers! They'll love adding a pop of colour or sparkle to their party outfit and even matching with their best friends. We can offer child-friendly polishes and fun nail art. Our express nail treatments only last 20 minutes so they can get back to the cake and games as soon as possible!
Payment Options
Hourly
Pay per therapist by the hour at a fixed rate. Book appointments in advance or allow for drop-ins. From £45 per hour.
Pay Per Treatment
Using one simple booking link individuals pay for their chosen treatment. Select from our extensive treatment menu or our discounted express range for larger corporate bookings.

FAQs
Do we need to provide any equipment?
Our Salonettes will bring their own equipment tailored to your chosen treatment. All we ask is that you make sure you have enough space for your party and the Salonettes. If you have booked a nail treatment, make sure you have chairs and tables available for the Salonettes to use.
Is there a minimum or maximum group size?
We ask for a minimum group size of 6 people; however, there is no maximum group size when making a booking - go big or go home with events, right! For groups smaller than 6, you can book directly through our app.
How many therapists can we have?
We tailor it to your specific needs. One therapist can fit a maximum of 8 treatments within 2 hours, so it depends on how many treatments you're looking to have. We will look at your group size, your time frame and budget to determine what's best.
How much notice do you need?
Generally, we require at least a week's notice to organise an event; however, for larger companies, we recommend giving more notice simply to ensure that we have some therapists available.
What areas of London do you serve?
We currently serve all areas of London within zones 1 - 4 and parts of London zone 5.
What services do you offer?
We currently provide manicure and pedicure treatments, eyelash extensions and waxing. If you decide to "Pay As You Go', check out our services to see the prices of our extensive list of treatments.
What happens on the day of the event?
The therapists will turn up at your location 15 minutes prior to the session in order to set up and will arrive with their full kit. Our team will be just a phone call away if you need any further assistance.